About
X-Pro is a unique technology for treatment and recycling of industrial and sewage wastewater. It works on the principle of Electro-coagulation which is a process of controlled release of metal ions mainly iron or aluminum in waste water. At the heart of X-Pro is a powerful and intelligent power control unit along with a simple yet effective electrochemical reactor. X-Pro is a indigenously designed process, keeping in mind local users and dealers.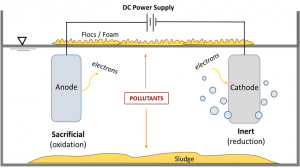 X-Pro is an Electrocoagulation technology, wherein wastewater is passed through an specially designed electrochemical cell which is having uniquely fitted electrodes and are made of either iron or aluminum or both. This electrochemical cell is powered with a specific density of electrical current through an intelligent power supply unit. Interaction of the current, electrode and wastewater flowing through the reactor destabilizes the suspended and dissolved contaminants in wastewater, converting them into an easily filterable floes. This floe laden water post its exit from the reactor is send to a suitable filtration device to filter out the floes, resulting in a clear treated water which can then be send for further treatment or reuse.
Textile Industries (Weaving / Dyeing)
Automobile Industries
Grey Water Treatment
Sewage Water Treatment
Removal of Heavy Metal
For Primary Treatments
In comparison to other conventional water and waste water treatment systems EC have various advantages:
Requires lesser foot print.
Completely modular and mobile system.
Fully automated, less man power required.
Customization options available.
Generates less sludge.